Animoto has finally reached iPhone store! This interesting web application is a powerful tool to create a slideshow based on the photos uploaded to it. The effect of the slideshow is fantastic and it is something like a movie trailer rather than a normal animation slideshow. Read our previous post to know more about Animoto.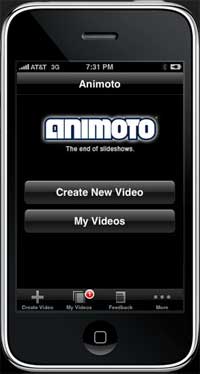 iPhone users can get the Animoto application via the link here. With this useful tool, users can easily create a slideshow using the photos available in their photo library. They can add in some music to play in the background and admire the effects with their iPhone. Users can also share their creation with friends via email.
With Animoto, users can share all their special moments instantly in an upbeat and unusual format. For instance, you can use your iPhone to shoot some photos of your brother's wedding or convocation, convert them into a trailer-like slideshow and send it to your cousin or friends elsewhere.