COVERT Pro is a total security solution that provides protection against spyware to ensure user's actions in all applications (browsers, email clients, office software, messengers, etc.) are safely hidden.
With it masking method, the software will create a secure platform to ensure invisible to the spies when user run applications. COVERT Pro able to filter as many of screenshoters and keyloggers which traditional antispyware software does not protect because it unknown and not prohibited.
In addition, COVERT Pro also comes with unique feature to protect sound recording. It will prevents spyware by allow users to adjust the speakers and microphone level and completely block the microphone. COVERT Pro also built-in instant messenger with encryption for users securely communicate with others Covert Pro users.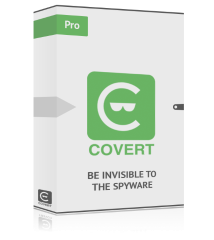 Features of COVERT Pro:
 Secure platform. Entrance to the platform and exit in one click.
Network Monitor. Shows a list of programs that have access to the Internet at the current time.
Database threats (malicious or unwanted programs). Available for replenishing by the user.
Driver Monitor. Shows a list of active and hidden drivers in the operating system.
System processes. Provides information about the processes (running programs) that occur on your computer.
Service system. Used to display the list of running services.
Hidden services and analysis services. Allows you to analyze the svchost.exe file.
Monitor hidden processes. This is a special function that is used to detect and display the list of hidden processes (rootkits).
Internal protection mode. There are three modes of protection to control running applications within the platform.
Quick Launch Buttons application.
The login ID in the platform to create multiple platforms protection.
The scale of CPU usage.
The scale of loading the platform.
Scale of loading the clipboard.
Selection of interface languages (English, Italian, German, Czech).
Emergency exit from the program and all platforms and closing all applications.
Screenshot of registration window with the definition of the parameters of the hardware, where COVERT Pro is installed. Designed to protect the user from losing registration details and obtaining a new registration key free of charge.
Adjusting the speaker volume and microphone inside a secure platform. Allows you to lock the microphone in order to protect from the listening room where the computer is located.
New! "Secure messenger" allows users to exchange encrypted messages without logins and passwords.
New! "Monitor DLL" displays the list of loaded DLL when COVERT Pro is running.
Supports five languages: English, German, Italian, Czech and Russian.
COVERT Pro normally cost $42 for purchase. As part of promotional, now everyone has chance to grab free license key of COVERT Pro without any cost.
To obtain free COVERT Pro license, just follow below:
Download COVERT Pro program from HERE.
Install and activate the program in the "registration" menu, by clicking the "Register" button.
Fill in below registration key:
SS4101877830778474
COVERT Pro compatible with all other antivirus programs and supported Windows XP, Vista, 7, 8, 8.1, and Windows 10.
You can share or follow us on Twitter, add us to your circle on Google+ or like our Facebook page to keep yourself updated on all the latest info from Microsoft, Google, Apple and the Web.