Server Core of Windows Server 2008 is a new variation of installation which creates a minimalist operating system. Server Core is a significantly scaled-back installation where no Windows Explorer shell is installed, and uses relatively little disk space of roughly 1 GB. Server Core can improve security and easier to manage due to few files and features installed, but all configuration and maintenance is done entirely through command line interface windows, or by connecting to the machine remotely using Microsoft Management Console.

Although some minor applications such as Notepad and some control panel applets, such as Regional Settings, are available, the lack of Graphical User Interface (GUI) make Windows Server 2008 Server Core less user friendly and harder to configure, as administrator has to remember all commands used in command shell interface, similar to pre-Windows DOS era. Although MMC can be used remotely, its ability is limited and restricted, and firewall on Server Core has to be configured to open a port to allow MMC, which in itself is a difficult task.
Guy Teverovsky from Microsoft Israel has developed a GUI management and configuration utility for Server Code of Windows Server 2008 name CoreConfigurator, which will provide basic configuration function to shorten the learning curve to Server Core. Core Configurator has the following features:
Product Activation
Configuration of display resolution
Clock and time zone configuration
Remote Desktop configuration
Management of local user accounts (creation, deletion, group membership, passwords)
Firewall configuration
WinRM configuration
IP configuration
Computer name and domain/workgroup membership
Installation of Server Core features/roles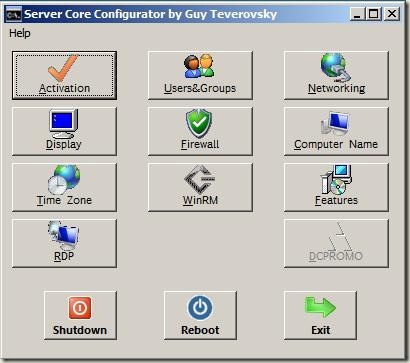 Download CoreConfigurator MSI package. After installing CoreConfigurator, navigate to the folder where it has been installed and execute CoreConfigurator.exe. It's possible to simply copy the 4 files in the program's folder and used on other Server Core computers without installing the application. More screenshots and information can be read on developer's blog.