Comodo Endpoint Security Manager, as its name implied, is an award-winning security software application for Windows operating system that protects the laptops, desktops and servers. Comodo Endpoint Security Manager features highly detailed reports, task-orientated wizards, real-time notification, automatic enforcement of security policy, and organized touch-screen interface.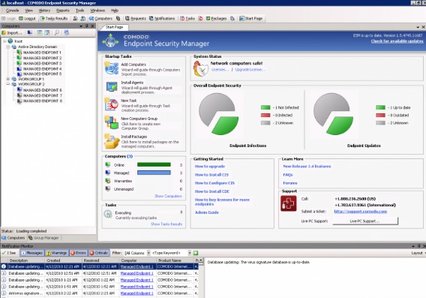 Features of Comodo Endpoint Security Manager:
World-class malware and virus protection with Default Deny Protection
Auto Sandbox Technology prevents untrusted applications from running on network PC
Easy to deploy and use
Browser-based dashboard offers panoramic view and control over endpoint security
Specify custom Internet policies that apply when devices connect from remote locations
Deployed templates can be edited in real time
Report Manager runs several reports simultaneously
Update Manager displays available updates for ESM Agent or virus definition database
Seamless and improved compatibility with Windows Domain Controllers
One centralized management console to manage both local and remote endpoints
Bundled WiFi security, Power management, USB device management
Multi-session RDP-style access to endpoints from the console and more
Comodo Endpoint Security Manager can be used in parallel with Comodo security products such as Comodo Disk Encryption and Comodo Internet Security (CIS), yet it provides real-time scanning and blocking of threats. With latest update, Comodo Endpoint Security Manager extended support for up 1000+ local and remote endpoints to manage an endpoint's network connections, processes and services, installed applications, CPU usage, RAM usage, hard-drive usage and bandwidth consumption. In addition, Comodo Endpoint Security Manager also enhanced system security, improved system performance, more efficient energy usage, and less administrative overhead.
As part of promotional offer, Comodo is having free 10 licenses for Comodo Endpoint Security Manager with no cost which normally cost $90 for purchase. Users who want to enjoy this free Comodo Endpoint Security Manager can just visit Comodo Endpoint Security Manager promotion page by enter the "Download 10 Free licenses" button: http://www.comodo.com/business-enterprise/cesm3/index_v2.php

Enter the email address and password, and then click "Continue" button.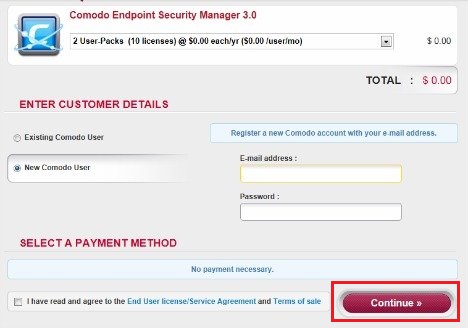 An email from [email protected] will be sent to registered email address containing the security manager download link and license key details.
Download the setup installer of Comodo Endpoint Security Manager and install the program, and you're good to go with free Comodo Endpoint Security Manager.
Comodo Endpoint Security Manager is compatible with Windows 7, Windows Vista, and Windows XP.