Good news for Android enthusiast. The famous cloud storage service, Box has announced free up to 50GB of online storage space and sharing service Box to all Android users. Since last year Box gave iOS users free 50GB upgrade and now it's finally Android users turn.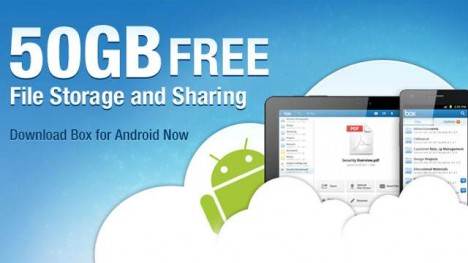 Box is a cloud-based storage and sharing service for files, photos, videos, documents and other, making the latest versions of each accessible to any device with a web connection. With Box, users can directly upload files to Box from Android's Gallery using the Share option. In addition, Box also lets users open, share, and leaving or view comments on the files. Besides that, Box also updated to the Android app includes bulk uploading, adding collaborators to a shared folder, App2SD and multi-lingual support, upload files in batch from an SD card, and additional languages.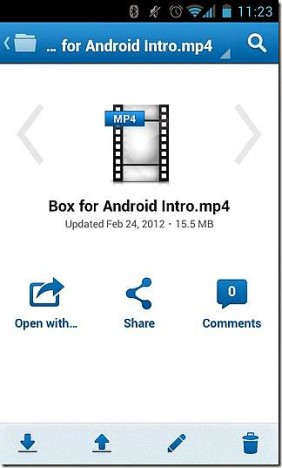 Features of Box for Android:
 Access, create and view content on Android phone or tablet
Upload multiple images, videos and files from the SD card
Save files to SD card for offline access
Easily share files and folders with links
Invite colleagues to shared folders and leave comments on files for them
Find content fast with built-in search
Save files of edit or create in other Android apps to Box account
Add a widget to home screen to see updates on files by colleagues
Box for Android is free and available in the Android Market, and the app is compatible with Android 2.0 or later. The promotion ends on Friday, March 23, 2012 at 11:59pm PST, so hurry up grab free 50GB and enjoy the liberty of getting way more cloud storage space for your data. Interest users intend to try just follow the step below:
Download Box for Android from Android Market.
Log into your account or register for a new one directly from the app.
The registration form offers three fields for your email address, password, and password confirmation. Then, click register and log into account.

Note: A message will pop up onscreen to confirm that Box account has been upgraded to 50GB of storage and sharing.
Start sharing and collaborating in the cloud.