Have you ever experienced having your laptop stolen and all your important digital data lost? If you're looking for a backup device, the newly launched Clickfree Traveler might be a good solution for you. The Clickfree Traveler is a credit card size back-up device as light as a pen, which makes it easy to bring along or just slipped into a wallet.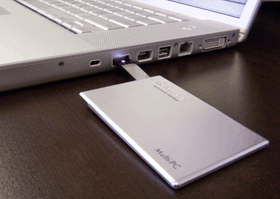 "Consumers need simpler solutions for protecting their digital data," said Bryan McLeod, CEO, Storage Appliance Corp. "Clickfree's patented auto-launching software completely automates the entire process, making PC backup effortless. Our expanded product line and new form factors give consumers numerous options and price ranges for backing up their precious and irreplaceable data."
Like all Clickfree products, the Traveler is also featured with auto-launch function that requires no software installation or configuration. Just plug the Traveler's USB cable into a PC or Mac, and it will search and copy your digital data including email, documents (Word, Excel, PowerPoint, etc), photos, video, music and any other information or file from your computer. For subsequent use, it will automatically back up new files or the ones that have changed only.
All the backed up files can be reviewed via Windows Explorer. The traveler can also back up data from multiple computers, restore your lost files back to your computer or transfer your files to a new computer.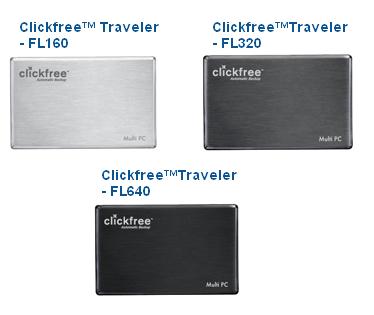 Below is a summary of the key features of Clickfree Traveler:
Size of a credit card (3.3″ x 2.1″ x 0.2″)
No software to install
Backs up over 400 file types
Smart Restore Technology
Integrated USB cable
Backup multiple computers
PC and Mac compatible
supported 14 languages
Available in 16GB (FL160) at £34.99, 32GB (FL320) at £79.99 and 64GB (FL640) at £199.99 from www.clickfree.com