After Japan and Australia, the most popular Internet embedded device in the US – Chumby, is now available in England, Scotland, Wales, and Northern Ireland. Chumby is a device that gives you a different Internet life's experience. It contains updated info on the weather, news, celebrity gossip and more. You also can play your favorite music and video.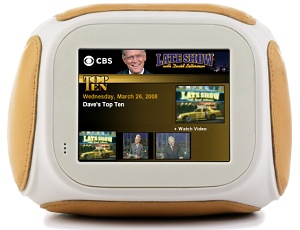 "Since we launched in the U.S. in February 2008 we've received a lot of requests – demands really – that chumbys be available outside the U.S.," said Stephen Tomlin, founder and CEO of chumby. "Chumbys have been available through our partners in Japan and Australia for several months, and we're excited to announce that Chumbys are now available in the UK."
Chumby is an ambient consumer electronics product produced by Chumby Industries, Inc.. Just plug in and connect the device into the Internet via the wireless network. You need to set out date and time when you first setup. Once you've activated your Chumby, you can create a new channel at Chumby's website and start adding your favorite widgets on to it. There are over 1,200 widgets in more than 30 categories for you to choose from.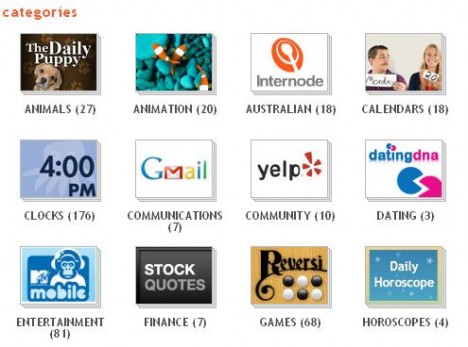 The featured content provided by Chumby:
News – keeps you up-to-date on the local, national or international news from media partners such as CBS, New York Times, Reuters and more.
Entertainment – you also can stream internet radio from ORB Networks, obtain fresh music news and photos from Entertainment Tonight.
Photo viewing and sharing – view and share your photos friends direct from Flickr.com and use your Chumby as a digital photo frame to show off your favorite photos.
Social networking – stay connected with your social network accounts like Facebook and Twitter without any computer.
Other available features: interactive games, weather forecast, enjoy videos from sites like YouTube, auctions, classifieds, clock & alarm, messaging, etc.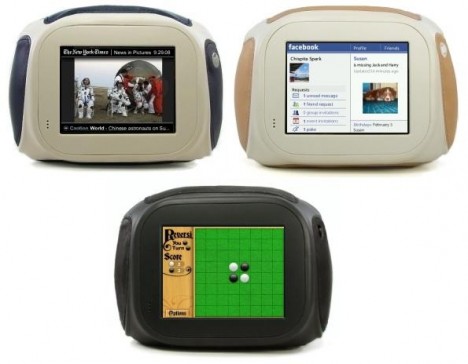 Chumby measures about 13cm(w) x 10cm(h) x 8cm(d) and comes with a soft Italian leather casing in various colors like black, varsity blue, latte and pearl. Its 3.5-inch TFT LCD touchsreeen and motion sensor make it easy for navigation by users.
Chumby is available online now at Chumby's store for about £137.