Nowadays, there are various types of spy camera such as pinhole spy camera, wireless spy camera, smoke detector lookalike spy camera, etc in the market. How do you ensure that you're not being watched when you're in a toilet, changing room or hotel? Just do a quick scan of your room with the Chinavision CVMV-J19 Spy Wi-Fi Signal and Camera Lens Detector to ensure you're in a safe zone.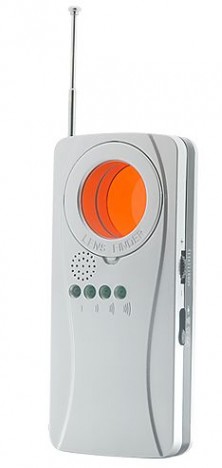 The CVMV-J19 can help you counter spying and surveillance. It detects hidden camera lens and spy Wi-Fi signals. The hidden camera lens can be detected by its optic IR lens. Do a sweep with the CVMV-J19 in the suspected room; if there is a light point found in IR lens, it might be an insidious camera. This device is also able to detect any wireless signals being emitted within 1-6500MHz frequency ranges. Switch on the Wi-Fi detector function and the 4 LED indicators will light up in sequence as you get closer to the Wi-Fi signal. Once the alarm is ringing, that means you have found the target.
The spy detector is powered by 2 AAA batteries. It is easy to bring around as its dimension is only 107 x 50 x 17 mm. Bring along the Chinavision CVMV-J19 wherever you go and ensure your privacy not being intruded. I am sure most celebrities will wish to have one. It is available from Chinavision for about $60.