The new entry level Speedlite 270EX launched recently by Canon is a 145g lightweight and compact external flash option designed specifically to complement the Canon's EOS and Powershot users. Unlike its predecessor Speedlite 220EX, the latest Speedlite 270EX is built with better flexibility and more power than you would expect from its compact size (64x65x76.5mm).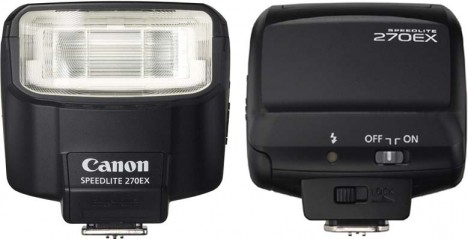 Powered by just two AA batteries, this camera external flash is easy to be setup and can be controlled through the camera's menu system. The Speedlite 270EX comes with the addition of a zoom head for more efficient light distribution. And using the 4-positions bounce flash head, lights will be better reflected off the ceiling above to produce a much superb lighting effect photographs.

With the Speedlite 270EX's enhanced quick flash; continuous shooting in dark places will be as simple as pressing a button. And despite being AA-battery powered, only a mere 4 seconds is required for the flash to recharge silently every time, thanks to its improved circuitry.
Specifications
Compatible Cameras
All Canon EOS cameras
PowerShot G-series cameras and select SX-series cameras
Guide Number
72 ft./22m (at ISO 100); flash head at 28mm zoom setting
89 ft./27m (at ISO 100); flash head at 50mm zoom setting
Recycling Time
Normal flash at 0.1 to 3.9 seconds
Quick flash at 0.1 to 2.6 seconds
Flash Range (At ISO 100, with EF 50mm f/1.4)
For normal (28mm): 2.3-51.5 ft./0.7-15.7m
For tele end (50mm): 2.3-63.3 ft./0.7-19.3m
For high sync speed (at 1/250 second): Approx. 2.3-24.9 ft./0.7-7.6m
AF Assist Beam Intermittent flash firing system effective range
At center: Approx. 13.1 ft./4m
Periphery: Approx. 11.5 ft./3.5m (in total darkness)
Bounce / Swivel Up
60°, 75°, 90°
Custom Functions
C.Fn-01: Auto power off (Enabled/Disabled)
C.Fn-06: Quick flash during continuous shooting (Enabled/Disabled)
Power Source
Two AA-size/LR6 Alkaline Batteries
Dimensions
2.5 x 2.6 x 3.0 in./64 x 65 x 76.5mm
Weight
5.1 oz./145g (without batteries)