Have you ever experienced being harrassed by unknown calls? Or having to answer your boss' calls after office hours or during your much needed vacation? But you can't switch off your mobile phone because there will be other important calls from your family or friends. CallsBlocker could help you to solve this problem.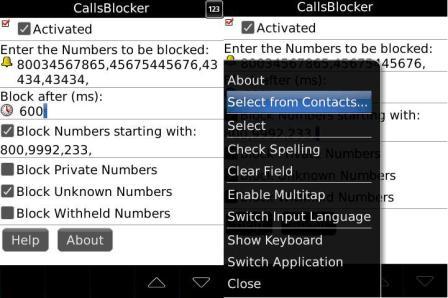 CallsBlocker is a great free application that allows users to block unwanted calls on your Blackberrry. There are a few ways to block unwanted calls in the application screen. It is easy to handle and user-friendly. Users can enter the individual numbers that they want to block directly into the application or/and block the numbers with certain area codes such as 800, 9992, 233, etc. There are also options to block private, unknown, withheld numbers and to specify the time frame to block the numbers.
Alternatively, users are also allowed to choose the numbers from their contact list/address book and add them into the blocked numbers' list. You can block numbers from your call log as well.
Download CallsBlocker from here.