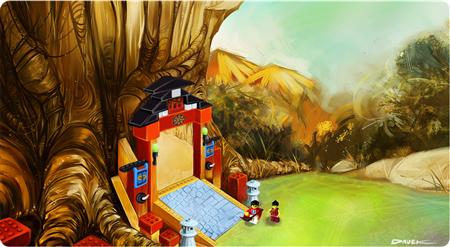 Better late than never. Since Nintendo and Mattel have launched their online universes for Pokemon and Barbie, respectively, it was natural for Lego Group to do so with its ubiquitous bricks. The toy, touted to develop fine motor and coordination skills in children, stimulate their creativity as well as encourage spatial intelligence and three-dimensional awareness, is finally jumping on the virtual world bandwagon. Children, teenagers and adults alike can now create their own universe with Lego Universe, the PC game set to capture a new niche market for Europe's largest but floundering toymaker.

Lego Universe which will be launched next year as MMOG (a massively multiplayer online game) will let players create online identities. Each player's avatar, or online persona is a customized digital version of Lego mini figures, the tiny characters in most Lego kits that also feature Lego Star Wars. Lego Universe will blend real-world style environments with characters and buildings made of digital plastic pieces.
In Lego Universe, users spend money to buy bricks to build their virtual universe. But rather than competing against an opponent, players are only required to spend more time to get more money to buy bricks and thus build better cities. "The more a child plays, they collect more coins and more bricks. The more you play, the more you get to build things," said a spokesman for Lego Group. In another win-win situation, players are encouraged to interact with one another, much as they would in a physical setting sitting side-by-side on the floor and building bricks together. Lego tries to maintain its integrity in promoting toys which promote physical, intellectual and social development without losing its competitive edge in the virtual world craze.
This PC game, soon to be available in stores and Internet downloads, is a collaborative effort with NetDevil. An exciting feature in Lego Universe is that fans will be able to order the physical versions of their online creations and have them delivered to their doorstep. This latest digital effort by Lego Group complements its popular video game franchise and also Lego Factory, a digital design system that allows fans to build Lego designs and then order the necessary components to be delivered in one package from Lego.
Fans of Lego or the virtual world game can have a rolling time with Lego Universe.