Brando, the famous gadget manufacturer has just unveiled a new type of solar charger that can charge any type of cell phones, PDA (Personal Digital Assistance), digital camera and MP3 player's batteries in the market. The gadget is lightweight and portable, that makes it suitable to be brought around as a emergency backup charger for any kinds of electronics devices operated on battery.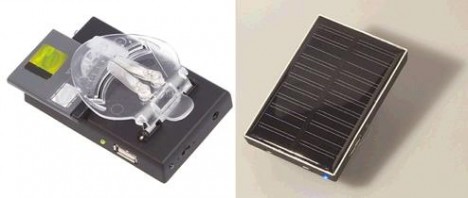 The idea here is a pair of adjustable contact points that can fit to almost any models of electronics devices' batteries for fast charging. As long as the batteries' positive and negative contact terminals are reachable by the two probes, user can just align them properly so that the current can be drawn and transfer devices' batteries directly. Besides, there is an option to charge external device such as Apple's iPod using USB cable that comes along with the kit. Better still, the device is equipped with solar panel and high capacity 1350 mAH internal battery so that the charging process can be accomplished on the fly. As long as there is sunlight, user doesn't need to worry about getting a suitable travel charger and power socket for emergency charging while away from home. For myself, I found it pretty useful as it is a All-In-One device for all types of electronics gadgets. Just imagine that you no longer need to spend time sourcing for unique travel chargers for various types of gadgets in your home.
The package contains the solar charger, USB cable, AC Adapter and different types of charging connectors suitable for famous devices such as Nokia, Sony Ericsson, Motorola and other manufacturers' products in the market. Priced at $25, the multi-purpose charger could be a good companion that you can't miss in your digital home.