BlackBerry (formerly known as Research in Motion or RIM) has officially announced the launch of its first touchscreen smartphone to its portfolio of smartphone. The BlackBerry Z10 sports a stunning large 4.2-inch screen display with a pixel density of 356 ppi (1280 x 756 pixels resolution) which the company claims as one of RIM's first devices that will run the new BlackBerry 10 operating system with full touchscreen display. It is a slightly smaller display than most other Android devices out on the market currently, but the impressive pixel density will surely please any BlackBerry user.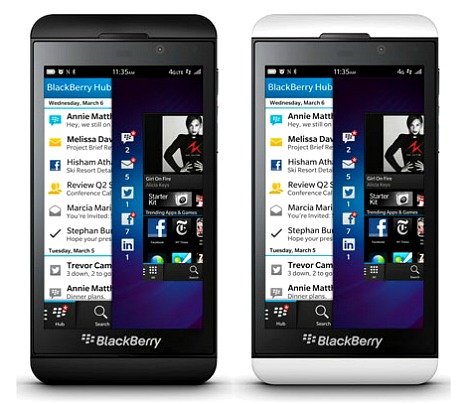 In addition to the incredibly pixel density, the BlackBerry Z10 also adopts a lightning-fast 1.5GHz dual-core Snapdragon S4 Plus buffered by 2GB RAM, high-resolution 8-megapixel camera with 1080p video capture capability and 2-megapixel front-facing camera(720p video) which both perfect for using Sclalado's Time Shift camera software, Wi-Fi b/g/n and HSPA+ connectivity.
As you know, battery life is always an issue for phone with a high resolution display, but fear not, BlackBerry has addressed your concerns with a large-capacity 1,800 mAh rechargeable lithium battery to support the high power consumption mobile device.
Lastly, it also comes with BlackBerry Z10 also intregated with familiar red notification LED, slots for microSD (up to 32GB supported) and micro SIM, micro-HDMI, as well as radios for Bluetooth 4.0, NFC (integrated into the backplate), and a 3.5mm headphone jack.
According to BlackBerry, the BlackBerry Z10 which measures just 130 x 66 x 9.3 mm and weighs in at 137.5 grams is portable enough to carry around and scheduled to hit Verizon stores on March for $199.99 on a 2-year service contract. The device will come in black and white colour and it seems perfect as the next hot-selling Blackberry phone that rocks the world.