Bitdefender Antivirus for Mac is a security suite that provides an advanced proactive protection against viruses, spam, and other online threats in real time and yet it will not slow down the PC performance. It can eliminates annoying adware, malicious hijacker programs, and unwanted toolbars with Adware Protection, and Bitdefender Autopilot for Mac is added to ensure maximum ease of use. Besides, it also ensures PC is well protected against any latest threats with hourly update, while also able to block any attempted theft and prevents personal information from being stolen via e-mail, web or instant messaging. Other impressive features include Behavior-based protection that could stops emerging threats by analysing the behavior of a given programme or process in a virtual environment, Phishing defense for analyses and blocks websites that support scams or credit card phishing attempts, and File quarantine.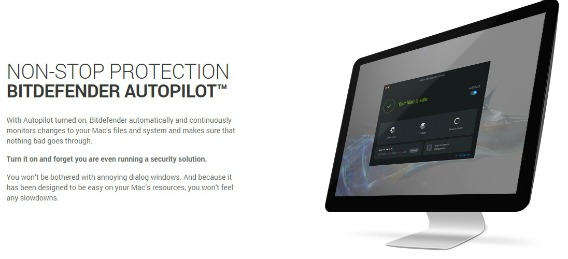 Features of Bitdefender Antivirus for Mac:
Protect data from viruses, worms, Trojan horses, botnets, rootkits, and spyware
Reduce system administration costs by keeping computers running smoothly
Blocks and removes annoying adware
Zero negative impact on speed
Provides non-stop protection with Bitdefender AutopilotTM
Secures online shopping experience
Protects against Mac and PC malware
Delivers 24/7 Cloud-based guard duty
Intelligent virus scanner
Scheduled scanning
Quarantine zone
Compatible with all Intel-based Mac OS X systems
If you would like to have Bitdefender Antivirus for Mac installed on PC, now you can get the genuine license which is free for 6 months!
The normal price for Bitdefender Antivirus for Mac is $39.95 for one year per PC. You can get the trial version but it is only last for 30 days. If you would like to have genuine Bitdefender Antivirus for Mac valid and free for 6 months, just follow below steps:
Visit to this website to register and grab the license key.

Enter your email address, and other requires info, and then click "GET YOUR ACTIVATION CODE" button.
Once it is done, just wait the confirmation email from Bitdefender.
An email will sent to registered email address containing the license key and download instructions
Once you have gotten above steps done, you are entitled to have genuine Bitdefender Antivirus for Mac valid for 6 months!
Note: Please keep in mind that you have only 30 days to activate giveaway license key.
Bitdefender is a global security technology company that delivers solutions in more than 100 countries through a network of value-added alliances, distributors and re-seller partners.