The American multinational computer technology corporation, Microsoft has recently announced plans to debut special edition versions of the No.1 best-selling notebook mouse in U.S – Wireless Notebook Optical Mouse 3000, offering in 5 fashionable new vibrant colors including Pomegranate (red), Dragon fruit (dark pink), Aloe (green), Milk chocolate (brown) and Creme brulee (khaki), which aimed to enhance your lifestyle.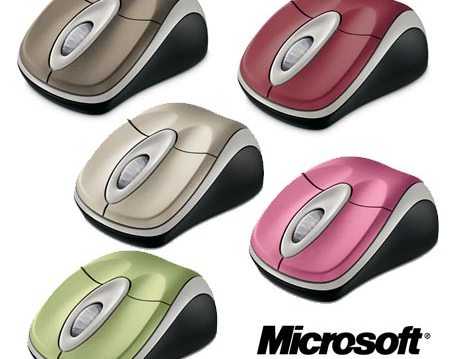 "Buying a tech product these days is a declaration of personal style, and these special edition mice allow consumers to make the ultimate statement," said Sean Butterworth, product marketing manager for Microsoft Hardware. "The Wireless Notebook Optical Mouse 3000 has always been a fan favorite, and these color updates will keep it in the forefront for years to come."
Highlights Of Microsoft Wireless Notebook Optical Mouse 3000:
High Definition Optical Technology features the exclusive Microsoft Intelligent Tracking System for smoother tracking, 1,000 dots per inch for more responsiveness and 6,000 frames per second for better precision
Compact shape and ambidextrous form includes sculpted finger grooves and rubber side grips, making everyday mobile PC activities easier and more comfortable
Snap-in receiver conserves battery life by automatically turning off power when snapped into the bottom of the mouse. Delivering an average of more than six months of battery life with one AA battery, this mouse reduces inconvenient work stoppages required to replace batteries or recharge
Wireless freedom allows you to sit back and click, eliminating the inconvenience of connecting your mouse with cumbersome cables
The special edition colors of the Microsoft's Wireless Notebook Optical Mouse 3000 is expected to hit Best Buy online store in coming May for about $30, and is scheduled to be available at other retailers by June 2008.