Backup4all is an easy to use backup software for Windows operating system that provides simple automatic data backup and password protection to enhance PC performance. With Backup4all, users can easily backup to any local or network drive, remote FTP servers, or to CD/DVD, Blu-ray, HD-DVD, and other removable media. In addition, it also performs saves storage space by compressing the data (using standard zip format) and even protects sensitive data by optionally encrypting by using AES Encryption (128/192/256-bit).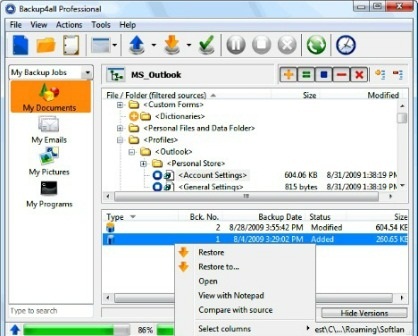 Features of Backup4all Lite:
• Easy to use restore wizard
• Performs four backup types – full backup, differential backup, incremental backup, and mirror backup
• Customized Zip Names, Standard Zip Compression and zip64 support, Encryption support
• Predefined Filters and, File and Folder Filters
• SFTP backup software
• Automated updates
• Logging
• Support snapshot
• Support disk spanning
• Command line tool
• Once-touch backup
• Handles multiple backup jobs
• Built-in Scheduler
• Built in Email notifications
• Backup directly to CD, DVD, Blu-ray
Backup4all Lite normally cost $24.95 for purchase. As part of promotional offers, Softland Group is now giving away Backup4all Lite v.4.8 for a limited time. To grab free Backup4all Lite v.4.8 legally, just follow the below steps:
1. Go to the following URL:
http://www.backup4all.com/en/free/blogpromo.html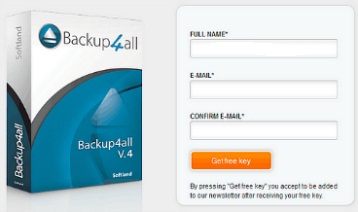 2. Fill in the required full name and email, and then click the "Get free key" button.
3. An email with product key / user name and serial number for Backup4all Lite v.4.8 will be sent to the registered email address.
4. Download Backup4all Lite v.4.8 setup installer: b4a-lite.exe
5. Enter in the product key and the serial number during installation to activate the full version of Backup4all Lite v.4.8.
Backup4all Lite v.4.8 supports Windows 2008, Server, XP, Windows Vista, and Windows 7.