Titanium Backup is an ultimate app and backup utility for Android users to backs up system and applications along with their data on external storage. Titanium Backup is a leading Android application that uses root access to pull all important apps and data from the system partition and stores them for future restoration use. To have a complete look into this app, let's continue with the user's guide.
Titanium Backup is designed to work on any rooted Android smartphones with supported from 1.5 to 4.0 version operating system. You can go to Play Store to install Titanium Backup for Android.
Note: Please make sure device is "rooted" which have super user permissions on device.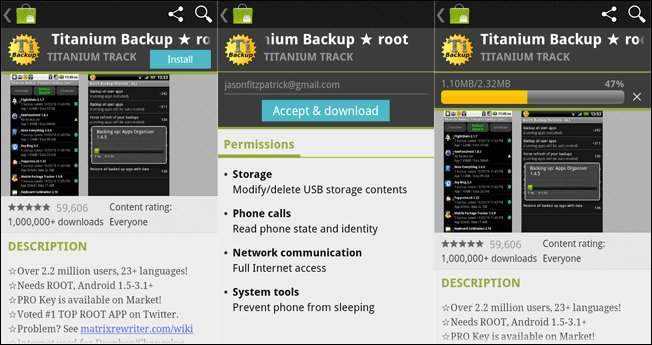 Backup
Once installed Titanium Backup into device, just simply hit the Backup/Restore tab. There are multiple ways to create backup file. You can back up into a single application and all user applications.
To back up your application in batch, click on the Menu tab. You can choose on "Backup all user apps" (Only apps) or "Backup all user apps + system data" (apps plus data).
After that, let it run and depending on how many applications you have installed, the loading process will take several minutes.
Now, your backup files are in the Titanium Backup directory on your SD card.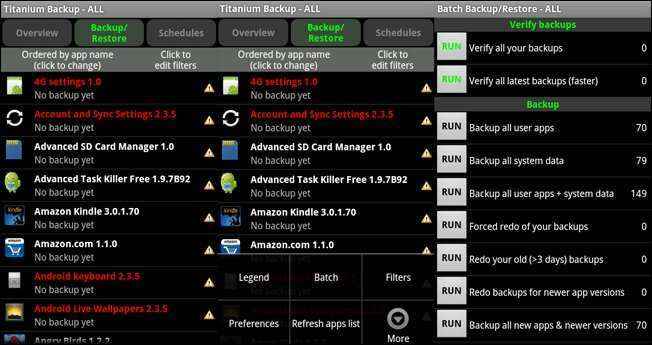 Schedule
Usually you will have first backup and create backup on updated or newly installed apps. Now you can schedule your backups with set up multiple items. You could decide for an hourly backup for your setting, a daily backup for applications or a monthly backup for your call and messages which comes to your mind. Just simply click on the Schedules tab on the main screen and adding new schedules which you like to set for. This function can assure that your apps will remain safe in times.
Restore
–          Click the Backup/Restore tab
–          Click Menu (the button), Batch
–          Click "Restore all missing apps + system data"
–          Reboot your phone
–          It's done! The only thing you may have to adjust is usually your wallpaper/widgets.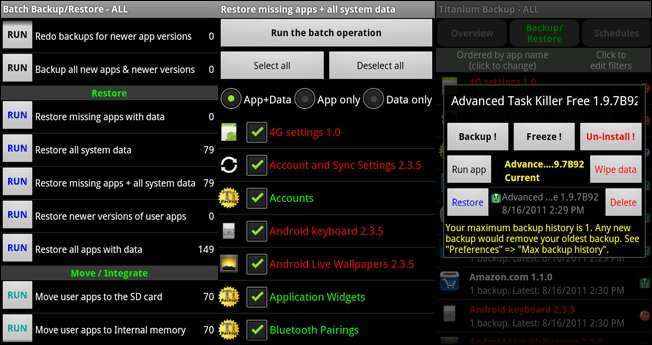 Finally you have done with the backup and restore operations, but Titanium Backup has not yet run out of tricks. You can send a list of all the apps been installed on your device to the PC via Bluetooth or email. Just simply click the "Menu" tab on your phone or device and click "More" button to bring up a list of options. Then, select "Send data" to send your backups apps to your PC.
There is a tip when using Titanium Backup. When you carelessly backup the same app several times, it will save SD card space by storing each apk version only once. This app was attempt to help users when changing a new device or upgrading to a newer ROM.