Did you know that bats always turn left when they leave their caves? Or that the Nobel Peace Prize medal depicts three naked men with their hands on each other's shoulders? No? You probably didn't even realize that you wanted to know these things, but now that you do, you are not only better informed about the world, but you also have a couple of conversation starters for down the pub. How do you fancy 15000 more of them? Awesome Facts does what it says on the tin, it provides users with 15000 verified facts on a very wide range of subjects. Awesome Facts is a facts application for iOS and Android users that created a huge collection of facts from around the world.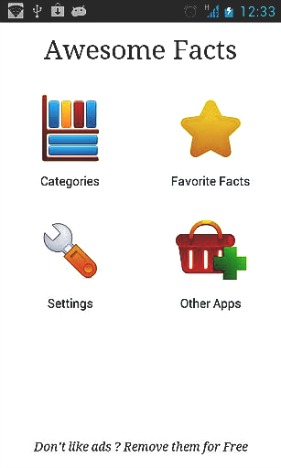 Features of Awesome Facts:
Easy to use and intuitive interface
More than 15000 facts with sorted in 33 categories
Keeps track of what users read and unread facts
Save a fact to favorites list
Share a fact via Facebook, twitter, email etc.
Fact of the Day widget
The app breaks the facts up by category, although the number of facts in each category varies wildly (from 2500 animal facts down to just 40 for plants and nature). Categories in the app such as animals and creatures, arts and literature, business, crimes, entertainment, sports, and etc. Enter a category and there will show a snippet of each fact, or the full fact if it is a short one. Tap on any of the snippets and users can view the full text. Users also can scroll through the facts in order to using the navigation arrows, add a fact to the favorites list (to later impress your friends) or share it via Facebook, sms, and etc. In addition, the facts are sometimes categorized strangely but otherwise this is fun, and occasionally useful.
So what are you waiting for, start reading the awesome facts and impress to the friends.
Download the free Awesome Facts from Google play store: https://play.google.com/store/apps/details?id=com.awesome.facts
Awesome Facts is runs on android 1.6 and later versions.