Virtual Private Network (VPN) services able to protect and secures Internet traffic while you use the internet and enables users to access geo-restricted websites. Picking a VPN service provider to keep you safe and secure usually comes down to features, price, server location, and performance. If you're looking for a VPN service to use on your Android, Astrill VPN does provide VPN service to Android users, which allow on-the-go access to VPN service.

Astrill VPN provides secure VPN connection using StealthVPN protocol that based on OpenVPN protocol with improve security and connectivity. Astrill VPN also offers simple setup and one-click activation with sports servers in 17 countries and supports Mac OS, Windows, Linux, iOS, and Android.
Features of Astrill VPN:
Defeat ISP deep packet inspection
Protect IP address
Utilize discreet business intelligence
Protect online activity from third parties
Prevent Geo-targeting and location identification
Here's how to configure and setup the Astrill VPN service on Android device:
Once launch, the login screen will appear for new users create an account or login in. Upon login to the main screen, you will see a toggle at the top that lets you enable and disable Astrill VPN service. The drop-down menu under it lets you select the VPN server location. You can choose to set the current location to the UK, US, Germany, China, Sweden, and more. The home screen also displays the expiration date of your current subscription.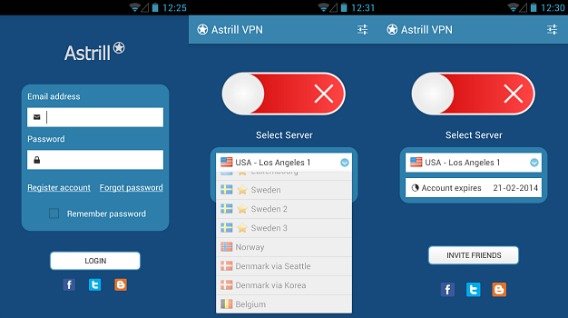 When toggled on, Astrill VPN will automatically configure network settings. Authorize the app permission to create a VPN connection is need when turning it on for the first time. If you don't want this prompt to appear every time you enable Astrill VPN, check the 'I trust this application' option.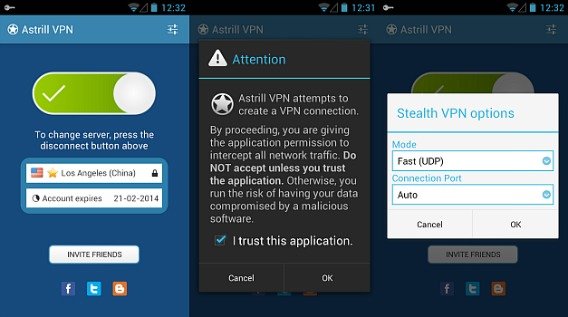 In addition, it also have Stealth VPN options menu that allows you to switch between UPD and TCP modes, and set connection port.
Astrill VPN is available for free download from Google Play Store onto Android device. The app itself is free but you'll have to purchase a VPN plan after a 7-day free trial.
Astrill VPN for Android: https://play.google.com/store/apps/details?id=com.astrill.astrillvpn