Encryption is one of the methods to protect the private and confidential files. Ashampoo Privacy Protector is an intuitive cryptography and security software that comes with 256-bit AES algorithm technology for encrypt/decrypt files, securely erase files, discover and clean privacy file. Users can select individual files or entire folders to be encrypt and can set separate encryption passwords for each file. In addition, Ashampoo Privacy Protector also allows users save encrypt file and burn them to a disc or send the file to an email address.
Instead of encrypt technology, the software also features archiving and cleaning. Privacy Protector able to cleans all data relating to internet traces of popular browsers such as Firefox, Google Chrome, or Microsoft Edge.
With Ashampoo Privacy Protector, user can generate password keys for encrypt file from flash drives, file, and images to avoid lengthy passwords.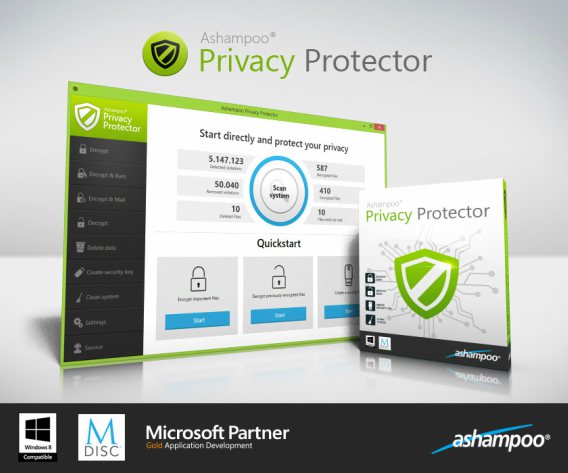 Features of Ashampoo Privacy Protector:
AES256 encryption of private data
Burn and archive data safely with high-security recordable
Safe storage of data
Use USB flash drives as master keys
Use of files and images as passwords
Permanent and completely delete sensitive or confidential information
Find and eliminate revealing data traces from operating system
Encryption of information in emails, CDs, DVDs, Blu-rays and high-security discs
Ashampoo Privacy Protector normally cost $39.99 for license purchase. As part of promotional offer, everyone now can get a free copy of Ashampoo Privacy Protector. Interested user who intend to try can grab the Ashampoo Privacy Protector full version license key through steps below:
Head to promo page HERE.
Fill in the email address, and then click "REQUEST FULL VERSION KEY" button.
An email from Ashampoo will receive containing with download link and license key.
Follow email instruction to permanently and fully activate the software.
Ashampoo Privacy Protector compatible with Windows 10, Windows 8 / 8.1, Windows 7.
You can share or follow us on Twitter, add us to your circle on Google+ or like our Facebook page to keep yourself updated on all the latest info from Microsoft, Google, Apple and the Web.