Ashampoo Anti-Virus 2014 is comprehensive security software for Windows operating system that provides sophisticated real-time protection against virus, trojan, spyware, and other malware with combines the Bitdefender and Emsisoft engines. The Ashampoo Antivirus comes with simple and intuitive users interface without slowing down PCs. In addition, Ashampoo AntiVirus 2014 also performs advance features such as behavioral monitoring system, internet surfing protections, on-demand scanning, browsing protection, and more.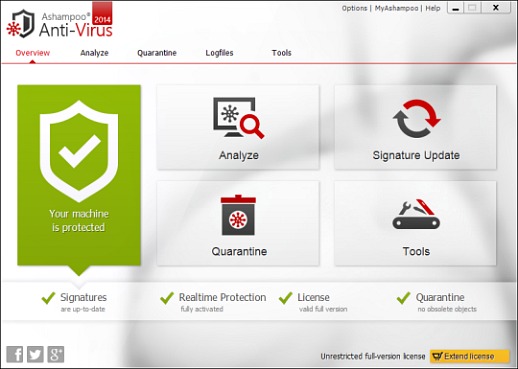 Features of Ashampoo Anti-Virus 2014:
Real-time protection neutralizes attacks as they happen
Behavior blocker monitors application behavior and also eliminates not yet classified threats such as zero-day exploits
On-access guard effectively neutralizes infection attempts during file operations
Multi-engine scanner with two scan engines for maximum accuracy
Integrated self-protection to prevent program manipulation through malware
Daily updates keep protection always up to date
Ashampoo Anti-Virus 2014 normally cost $39.99 for purchase. As part of promotional offer, interest users now can grab a great opportunity offered by Ashampoo to enjoy a free 6 months full version Ashampoo Anti-Virus 2014 license key. To grab a free Ashampoo Anti-Virus 2014 with genuine and working license key, users can follow the steps below:
Visit the following URL to register for free Ashampoo Anti-Virus 2014: http://www.ashampoo.com/frontend/registration/php/trial_step1.php?session_langid=2&edition_id=jk9r0f36ajwdsvwm8ffjmspcbq3cqkj3&ref=linktarget
Fill in the form by enter a valid email address, then click "Request full version key" button to register.
Then email from "Ashampoo" will receive with a conformation link.
Click on the conformation link, then will be automatically directed to a web page where need to fill in the name and other information.
Note: If you already registered an account with Ashampoo before, just click on conformation link, then you will be directed to your Personal Ashampoo Account Page or receive email with license key
Once after fill in the form by type first name, last name, zip code, language and country. The free license key will be displayed.
Note: If you don't want to register Ashampoo account, just click "Not Now".
Download and install Ashampoo Anti-Virus 2014: Ashampoo_antivirus_1.0.2_sm.exe
Enter the license key to enjoy the free full app.