AptEdit Pro is a full featured and professional 32-bit text, HEX (hexadecimal), drive and html editor for Windows 2000, XP, Server 2003, Vista, and (can safely assume) Server 200. AptEdit offers many powerful features to view and edit just about any text or binary file, and it's an excellent source editor for Web page authors, developers, and programmers. Beside, AptEdit can be installed on USB flash or other portable drives with all user configurations saved in the movable drive so that AptEdit can be took and used anywhere on any computer.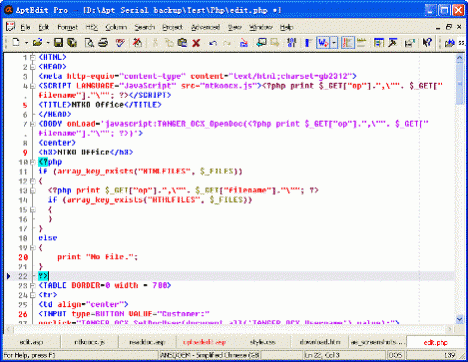 Features of AptEdit Pro
View and edit any file on your hard drive (unlimited file size).
View and edit your local drive (Logical / Physical).
HTML editor, HTML Toolbar and seamless Web browser The HTML Toolbar allows you to insert common HTML tags quickly and easily. Seamless web browser for previewing the content of your HTML document without leaving the editor.
Customizable Full-Screen scheme supports Terminal Editor.
Visual Files Comparison can compare two text / binary files, and also can merge the difference for text files comparison.
Powerful Binary (HEX) Template technology allows you to understand any binary file format.
Checksum or hash Calculator supports checksum (8/16/32/64), CRC-16, CRC-16-CCITT, CRC-32, MD2, MD4, MD5, SHA-1, SHA-256, SHA-384, SHA-512, FCS-16, FCS-32, GOST-Hash, HAVAL-5-256, and TIGER.
Powerful Column Editing features.
Portable/USB stick editing.
Convert data between ASCII, EBCDIC, and UNICODE formats.
Code Folding for most syntax languages.
Perl RegExp search and replace.
AptEdit Pro Text normally costs $59.95, but the latest version of AptEdit Pro, 4.5, is giving away with full license registration code by Giveawayoftheday.com, if you download and install the program today (April 22, 2008).
Download the free AptEdit Pro. After installing AptEdit Pro, register the software using the registration name Giveawayoftheday and activation key number AQKJWL-27JVZ-8YXN4-FWTUZ-KTNAU-MNKYC.
Offer expired? AptEdit Pro has a freeware sibling AptEdit Lite and AptDiff. And there is also free open source alternative such as Notepad++, Notepad2, PSPad and WinMerge.
AptEdit Pro has been upgraded to AptEdit Pro 2.6.