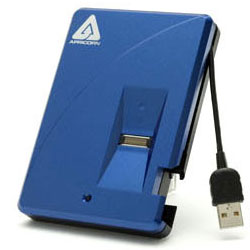 We are often horrified and shocked by scandalous revelations of celebrities whose personal information or private photos have been leaked out to the public. If security is a primary concern for you, you should be aware of the numerous applications and electronic gadgets which can alleviate your worry. The Appricon's Aegis Bio is a pretty interesting and powerful encrypted portable drive if you are looking for a removable drive to store your private data, even your naked photos.

The Appricon Aegis Bio is amongst one of the few portable hard drives available in the market with a built-in biometric fingerprint reader. Users do not need to spend time to think or memorise a strong password to lock their drive if they are using Aegis Bio. This high security device allows users to use their fingerprint as a security measure to access the drive. Once users have registered their fingerprint, they could just swipe their finger on the sensor to access their file via this biometric authentication and encryption approach.
With the bundled UPEK's Protector Suite Token software, users can also make use of Aegis Bio to login to Windows or password-protected online accounts/websites with just a simple swipe of their finger. Users can be more relaxed and less worried if they have a tendency to be absent-minded and have difficulty remembering multiple passwords. Aegis Bio supports multiple platforms; users can access files on any USB enabled computer, PC or MAC. In addition, this external drive also features a 16-point omni-directional shock mounting which serves as a protection shield to protect the storage drive from accidental bumps and hard knocks.
Appricon's Aegis Bio is one of the hardiest encrypted portable storage drive which is very suitable for those who are concerned about data security. It increases the security level substantially via the bio encryption and users who are required to transport data from one place to another frequently should probably consider it.
Below is a summary of Aegis Bio's key features:
Convenient ultra-portable design — Ideal to take between home and the office or on trips
Hardware Encrypted Drive – Real-time 128-bit AES encryption seamlessly encrypts all data on the drive, protecting the drive even if it is removed from its casing
Biometric Access – Once registered, just swipe your finger on the sensor for access to your files. Up to ten fingerprint profiles can be stored and can be accessed without software on the host system.
UPEK TouchStrip Fingerprint Sensor with Oxford Controller Chip – Leaders in Biometric Fingerprint Authentication Security, UPEK and Oxford solutions provide the ultimate in data protection with their unique match on chip technology, enabling access to the drive to be completed without exposing data to the host computer.
Cross Platform Compatibility – Access files on any USB equipped computer, PC or MAC
Administrator Password feature – Ideal for IT departments looking to secure their mobile users, by allowing setup of administrator access to the drive before being distributed to their mobile user(s).
Bus powered – Bus powered from standard USB Port
Integrated USB cable
Extensive Shock Mounting – Protects your data with a 16-point omni-directional shock mounting system
Perfect for companies dealing with sensitive information — The Aegis Bio is the perfect option for companies that need to take sensitive information on the road, such as government or financial institutions
Secure mobile storage for the road warrior — Excellent for transporting data between desktop & notebook computers, or a secure mobile storage system
Worry-free 3-year-warranty