Consumers are so happy to see the hot competition in the market since it will let consumers to choose better product at a competitive price! In a bid to be treated as the true competitor to hot-selling Amazon Kindle Fire HD, iPad Mini has been introduced which packed with design of more competitive specs and competitive pricing.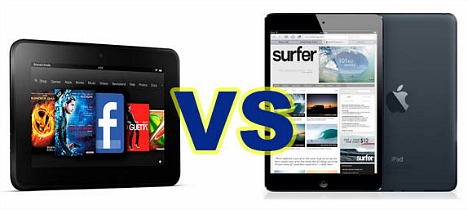 Hence, if you're the one who in consideration whether to purchase either Apple iPad Mini or Amazon Kindle Fire HD tablets and would like to know more details of both, then you can check the following comparative table of Apple iPad Mini vs. Amazon Kindle Fire HD for differences in features and specifications.
| | | |
| --- | --- | --- |
|  Apple iPad Mini |  Versus |  Amazon Kindle Fire HD |
| Dual-core A5 processor | CPU | 1.2GHz dual-core TI OMAP4460 processor |
| 7.9-inch LED backlit IPS display 1024 x 768 pixels resolution at 163 ppi | Screen Display | 7.0-inch LED backlit IPS  display with 1280 × 800 pixels resolution at 216 ppi |
| 16GB, 32GB, or 64GB | Memory | 16GB or 32GB; 1GB RAM |
| 5-megapixel rear-facing, 1080p HD video; 1.2-megapixel front-facing camera, 720 HD video | Camera | 720p "Web chat" front-facing |
| Wi-Fi 802.11 a/b/g/n (2.4GHz and 5GHz) | Connectivity | Wi-Fi 802.11 a/b/g/n (2.4GHz and 5GHz) |
| 4G LTE versions available | Extras | Whispersync, X-Ray, Amazon Prime |
| Lightning connector | Ports | Micro-HDMI, Micro-USB |
| 7.9 x 5.3 x 0.28 inches | Dimensions | 7.4 x 4.7 x 0.45 inches |
| 308 grams | Weight | 400 grams |
| "16.3-watt-hour"; 10 hours battery life | Rechargeable Battery And Usage Time | 4,400 mAh; 7 hours battery life |
| Wi-Fi: $329 (16GB), $429 (32GB), $529 (64GB). Cellular: $459 (16GB), $559 (32GB), $659 (64GB) | Pricing | $199 (16GB), $249 (32GB) |
| iOS 6 | Operating System | Android OS |
| Black/Slate and White/Silver | Colors | Dark gray |
As you may know, Apple has recently announced its newest iOS tablet – iPad Mini, which offers enhanced user experience, ultrafast wireless connectivity, and much more.
From the table above, you may find that both of the contenders come with ultra-sharp displays which good enough to watch HD video, photo and more graphics while on-the-go.
And the 7.9-inch iPad Mini that featured stunning designs with high build quality to fight with competitor is packing a slightly bigger, higher-resolution display, faster dual core A5 chip processor, and thin as well as a pencil and as light as an A4-size pad of paper. The Kindle Fire HD, on the other hand, offers innovating spirit as well as the stylish, trendy design with 1280 x 800 pixels screen, Tegra 3 chip processor, and micro HDMI output to making it easy to hook up to any HDTV.
So it's so hard to guess who's a winner in this battle, perhaps we must wait the market to prove the popularity of both Apple iPad Mini or Amazon Kindle Fire HD tablets with their sales figures.
Note: If you love Apple iPad Mini so much but feel that WiFi-only model is not enough for you, you can go for the 4G LTE-enabled Apple iPad Mini 7.9-inch which is slated to hit the Apple stores in the coming weeks for around $459 (16GB), $559 (32GB), and $659 (64GB) on a 2-year service contract, check out the introduction on iPad mini for more details.