Anvi Smart Defender Pro is a powerful security tool from Anvisoft Corporation that provide protection for PC computer against malicious viruses, spyware, rootkits, online frauds, identity theft, and hackers, by offers multiple scan levels and cloud-based scanning. Anvi Smart Defender comes with five functional modules such as Scan, Cloud Scan, Guard, System Optimization, and ToolBox. In addition, Anvi Smart Defender Pro adds system optimization function and swordfish engine to scans and detects Internet security threats.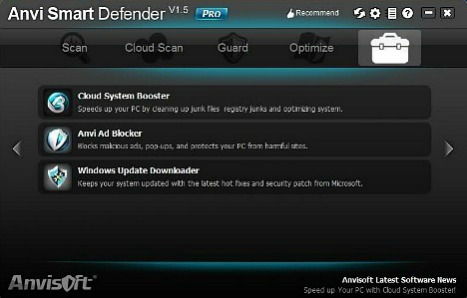 Features of Anvi Smart Defender Pro:
PC premium guard with real-time protection
Anvisoft toolbox for extra PC maintenance
Cloud system booster
Windows update downloader
Anvi Ad Blocker
In-house malware research center
Free updates and upgrades
Anvi Smart Defender Pro normally cost $24.98 for purchase. As part of promotional offers, Anvisoft Corporation is now giving away free Anvi Smart Defender Pro. To grab a free copy of Anvi Smart Defender Pro legally, just follow the steps below:
Go to the following URL: http://www.anvisoft.com/promotions/getasdfree.php
Fill in the required full name and email, and then click the "Get it now" button.

An email with product key and serial key number for Anvi Smart Defender Pro will be sent to the registered email address.
Download Anvi Smart Defender Pro setup installer: asdsetup.exe
Once downloaded, run the setup installer and complete the installation process by following the instructions on the screen.
Note: On the main interface click "upgrade" to enter the Anvi Smart Defender Pro license code.

Anvi Smart Defender Pro is compatible with Windows XP, Vista and Windows 7 operating systems.