The latest trend of anti-virus security software is certainly integrated all-in-one. Now, most anti-virus not only provides virus protection feature, but also incorporated protection against other exploits or threats such as spyware, adware, rootkit and etc. For example, AVG 8, Avira AntiVir 8, and avast! 4.8 all contains many functions all into one executable. Meanwhile, Windows Vista Security Center requires two essential components, virus and spyware protection, to be present and installed on the system as complete malware protection to avoid the Security Center notification alert and icon in system tray.

By default, Windows Vista has built-in Windows Defender, which serves antispyware functionality to protect computer against spyware and other mailware. Thus, users only need to install an antivirus program to get rid of the consistent Security Center alert that the computer is at risk. Install an anti-virus security protection software is always a recommended to minimize thread and risk exposed to the system.
But as mentioned above, most of the antivirus software may already has antispyware functionality. Thus running anti-virus program which integrated with anti-spyware feature parallel or together with Windows Defender may take out unnecessary system resources. So if you're running anti-virus and antispyware with all-in-one software program, it's possible to turn off and disable Windows Defender without Security Center giving red alert.
To check and verify that the anti-virus program installed indeed has also anti-spyware or anti-malware feature that been recognized by Windows Vista Security Center (if not recognized, the red alert or yellow alert may still appear into notification area), open Control Panel, go to Security and run Security Center. If your antivirus software capable of prevent, detect and clean spyware infection too, Security Center will display something like Windows Defender and AVG Anti-Virus both report that they are turned on under Spyware and other malware protection section.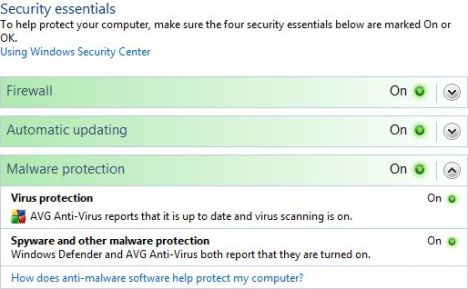 Why waste memory space and CPU resource to run two copy of antispyware program? Turn off and disable Windows Defender by going to Tools -> Options, and then uncheck the Use Windows Defender check box under Administrative Options.

Once Windows Defender is disabled, Security Center will not give any security risk alert, as the antivirus program installed will take over the function of the antispyware.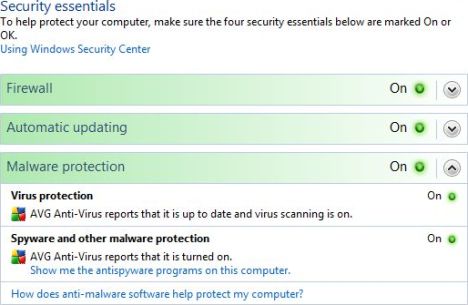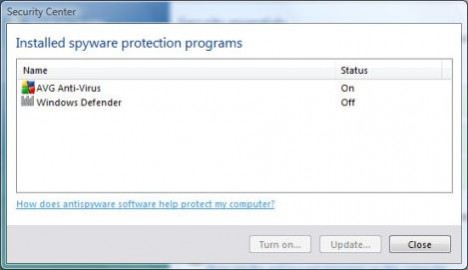 Clicking on Show me the antispyware programs on this computer link will have Security Center displays list of all antispyware programs recognized.
Figures above uses AVG Anti-Virus, but not only is AVG Anti-Virus is supported, but also Avira AntiVir, avast!, and Symantec Norton Antivirus are reported to be able to co-act as antispyware protection too.