Angry Birds is one of the most popular and addictive puzzle games for iOS and Android devices. Angry Birds was developed by Finland-based Rovio Mobile that need players use a slingshot to launch birds within various structures in order to destroy all the pigs on the playfield.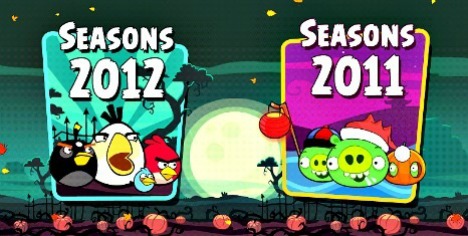 The Angry Birds is available for almost all gaming platform – iOS, Android, WebOS, Symbian, Windows, Mac OS X and etc. Angry Birds is free for play but ad-supported in Android mobile platform. In the iTunes App Store, Angry Birds for iPhone and iPod touch costs $0.99 for purchase, while iPad HD costs $1.99.
But if you wish to have free Angry Birds game in iPhone, iPod, and iPad, iTunes App Store is now giving away Angry Birds Seasons game as Apple's App Of The Week.
Angry Birds Seasons is a special edition for celebrating the special holiday. Angry Birds Season comes with more than 290 levels and regular free updates in 4 episodes, including a golden egg.
For iOS users who are taking advantage of free Angry Birds Seasons game offer, iTunes App Store app has to be installed for the app to be downloaded and installed onto the phone.
Download Angry Birds Seasons for iPhone and iPod from iTunes App Store.
Download Angry Birds Seasons HD for iPad from iTunes App Store.