Great news for fans of Angry Birds, mobile gaming giant Rovio has launched Angry Birds Go for Android and iOS OS. Angry Birds is one of the most popular games which have been developed by Finland-based Rovio Mobile. The new version of Angry Birds Go features challenging fast-paced 3D racing on Piggy Island with a focus on power-ups and weapons. The game has been designed with variety of game modes to choose from besides a straight-up race to the finish, including Race, Time Boom, Fruit Splat, Champion Chase and Mega Match.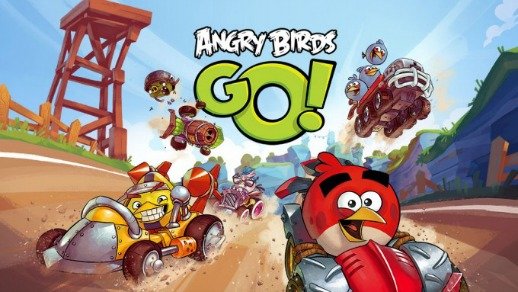 Games will start up with one racer (the iconic red bird and one kart), you can collect coins while playing that can be used to upgrade your vehicle and purchase new ones to winning the race. In order to enter next level races, you will need to continually upgrade the kart, which means you'll have to play through races multiple times to raise the coins. It control similar with several race game as Asphalt series, you can turn left and right, using either touch or tilt controls with accelerate automatically.
Angry Birds Go is a free-to-play title, but subsidized with in-app purchases. Those users who interested, can download Angry Birds Go Free for Android and iOS OS from Google Play Store and iTunes App Store.
Angry Birds Go for Android: https://play.google.com/store/apps/details?id=com.rovio.angrybirdsgo
Angry Birds Go for iOS: https://itunes.apple.com/us/app/angry-birds-go!/id642821482?mt=8
Video for Angry Birds Go: