Android Lollipop is here. Google has released the latest version of the world's most popular mobile platform – Android 5.0 Lollipop, which bring a bunch of Android awesomeness features such as new user interface (Material Design), new Android Runtime (ART) that will help apps performance boost and more efficiently, support for 64-bit hardware, and along with improve battery life.
Material Design is the new design language for the whole of Google, bringing magical paper-like surfaces and whimsical animations to Android and other products. With Material Design features, Android 5.0 users can press the new, square-shaped button and it will present with a Rolodex-like stack of cards representing the applications. In addition, Lollipop also allows developers to have their apps create multiple cards in the new task-switching menu, and the main example you'll come across right away is Google Chrome, Gmail, Google Calendar, and Google Play Store.
Notifications
Notifications have always played a big role in Android 5.0 Lollipop; new notifications appear as floating which Material design cards that allow swipe down from the top of any screen to reveal. A nifty new feature allows you to press and hold individual notifications to access the app's notification controls and see more information. For example, if you're playing a full-screen game and you receive a call, a notification will let you see who's calling, and let you accept or dismiss the call.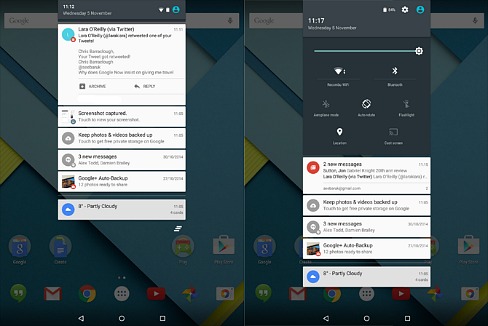 Here's a round-up of the new features of Android 5.0 Lollipop:
"OK, Google" voice command works when the screen is off on the Nexus 6 and Nexus 9.
A faster setup process for a new device, using NFC to migrate your accounts over by tapping your new phone against your old one.
Improved multimedia performance, including lower-latency audio and USB audio accessory support.
Professional photography features, including support for raw images; control settings for the camera lens, sensor and flash; and capturing full-resolution frames at 30 frames per second.
Easier switching between tap-and-pay NFC payment apps.
Print preview and the ability to select a specific page range when printing.
Improved network handoffs when moving from a Wi-Fi signal to a data signal. For example, you can continue a Wi-Fi call or video chat when you leave your home Wi-Fi and switch to data.
Your phone will now connect to Wi-Fi if there's a verified Internet connection available, instead of searching for any available network.
A more power-efficient scanning protocol for searching for Bluetooth low-energy devices and beacons.
New ART Android runtime, which improves performance and responsiveness in your apps.
Support for 64-bit devices, like the Nexus 9, and 64-bit native apps.
Support for more than 68 languages. Google added Basque, Bengali, Burmese, Chinese (Hong Kong), Galician, Icelandic, Kannada, Kyrgyz, Macedonian, Malayalam, Marathi, Nepali, Sinhala, Tamil and Telugu in this release.
For sure in the coming months, the flagship devices from major manufacturers such as Samsung, HTC, LG etc. will be getting update for Android 5.0 Lollipop.