The worldwide leader in video innovation, digital entertainment products for the personal computer and Internet, Creative has launched its new amazingly small video camera that tiny enough to fit easily in your pocket, named as Vado Pocket Video Cam. This cool and affordable videocam is able to capture MPEG-4 AVI video (VGA resolution) at 30 frames per second, aiming to enhance your video capturing experience.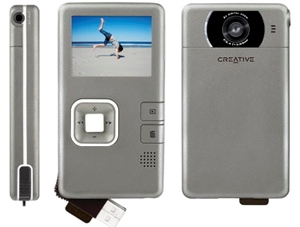 "We're making shooting and sharing video as easy as taking pictures with a point-and-shoot portable digital camera. The Vado is so small and lightweight that you can have it in your pocket so it's always there, or you can just set it on your coffee table so everyone in the family can use it. It's so inexpensive and easy to use that you don't have to worry. It's always ready to capture spontaneous moments that are once in a lifetime, the type you can't plan for in advance," said Craig McHugh, President of Creative. "The Vado doesn't need tapes or discs; it can record up to two hours of high-quality video on its built-in 2GB of memory and it has a removable rechargeable battery, so you can shoot two hours of video on a single charge and you don't have to hassle with disposable batteries. "
Key Features Of Creative Vado Pocket Video Cam:
Slim (100 mm x 55 mm x 16 mm), lightweight (less than 3 oz), pocket-sized design to fit into your pocket or purse and never weighs you down
Large 2-inch, antiglare (16 million colors) LCD screen
Removable rechargeable battery (AA batteries) so you can change out for a fresh one
VGA CMOS sensor (640 x 480 video resolution)
2GB on-board memory
Transfer your videos to your computer or post them directly to YouTube or Photobucket thanks to the built-in flexi USB connector and software program for PC
Enable friends and family to download your videos from Box.net
The new Creative Vado Pocket Video Cam that comes in either silver or hot pink colors is now available at Amazon.com, B&H Photo, Buy.com, Creative.com, Fry's Electronics, J&R, and Newegg.com for about $100.