Many Windows users with a little technical skill will probably heard of or have used nLite Windows installation customizer which customize a Windows XP or earlier installation CD disk before actually installing the operating system onto PC. Not many may have heard of MultiSet from Almeza. MutliSet is a commercial software (partly explain why it's less popular) which able to create standalone unattended Windows XP installation disk that create a custom Windows XP installation CD or DVD disk that will automatically install the OS Windows without asking questions about username, product key, time and locale settings, plus many other features.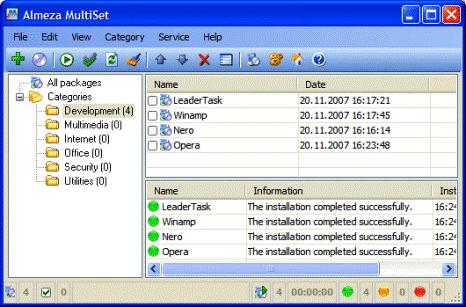 Features of MultiSet include:
Able to automatically install applications with the necessary keys are entered into the registry, drivers are updated, new patches (service packs) from Microsoft are installed.
Create a bootable automatic installation CD. You can use MultiSet software to create a universal disk for automatic installing software onto a computer using any media (CD/DVD/Flash/Hard Drive) automatically
Create windows installer which can be used to install the programs in any location and as many times as you want – just insert the disk into the CDROM, DVDROM or FlashDrive, and MultiSet will undertake the complete installation procedure.
Silent install by automating installation of programs.
Wizard based guide to create installation kit for Windows, Applications or Windows and Applications.
MultiSet normally costs a hefty $99.95 for single personal home user license. Today (May 8, 2008), Giveawayoftheday is giving away the full version home user license for Almeza MultiSet completely free. Download the MultiSet setup zip package, and run activate.exe by today. Then run setup.exe to install MultiSet. Inside the zip archive there is activate_multiset.amltkey activation key file too, copy it to MultiSet installation folder (normally C:\Program Files\Almeza\MultiSet) to convert the trial version of MultiSet to full version program which can be used for unlimited times and without time limit or expiry date.
To backup the free registration data for MultiSet, simply backup the activate_multiset.amltkey. When you need to reinstall MultiSet, download and install using the standalone setup package from almeza.com, which do not require and bypass offer validity verification with GAOTD and can be installed freely anytime. To activate and register the software to full version, copy the license key to installation folder as above.
GAOTD is giving away free activation license key for MultiSet 6.3 on January 21, 2009.