Acronis True Image is a disk imaging, disk cloning and disaster recovery application for Windows computers which protect users from unforeseen events such as viruses, unstable software downloads and hard disk drive failures. As a promotion with PC Pro UK, Acronis is giving away free full featured True Image 8 Personal Edition with genuine OEM license serial number. Unlike the free O&O DiskImage 2 SE that lacks bootable recovery CD creation, Acronis True Image 8 has all disk imaging and cloning (see the trick to use Acronis True Image 8 for disk cloning) features and functionalities.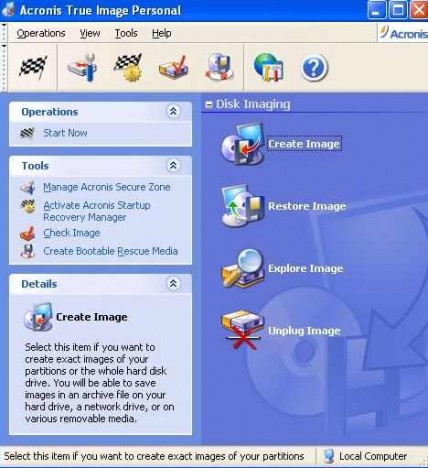 True Image allows users to create exact image of a disk or partition transparently in the background, and save the complete full back-up image in a file on a any disk drive or removable drive, and restore entire hard disk contents for full data recovery when disaster strickes, or deploy to a new PC supporting automatic partition size resizing with all disk contents and structure intact. User can also mount (explore) or unmount (unplug) an image to use it as a virtual logical drive to extract its content individually by file or folder. Zenegra http://valleyofthesunpharmacy.com/zenegra/
Acronis True Image 8.0 Personal features a Bootable Rescue Media Builder to create bootable rescue live CD that can be used to boot up computer and restore system from image archives. There is also exclusive Acronis Secure Zone that protects system by saving an image to a special hidden partition on hard disk similar to most OEM recovery partition. And with Acronic Secure Zone in place, Acronis Startup Recovery Manager restore the computer using images stored on Secure Zone before Windows is loading by hitting F11 function key.
All functions of Acronis True Image 8.0 can be accessed through a wizard-drive interface. However, Acronis True Image 8.0 Personal Edition lacks the features to store hard disk images on any storage device or media such as tape and over the network such as networked drive, schedule image creation and ability to create incremental backups.
If you want a free copy of Acronis True Image 8.0 Personal Edition and its free license key (which is assigned as OEM serial number) for no limitation usage and time limit, go to the following URL to register your details. You will need to fill in the fields of first name, last name, e-mail and what other PC publications do you read such as PC Magazine, PC User and PC Advisor. Then, tick the "I have read the privacy policy", and click "Register me!" button.
http://www.acronis.co.uk/mag/pcpro/ati8pe
A request confirmation email will be sent to your mailbox to confirm that you really want to receive a serial number for the Acronis True Image 8 Personal software. Click the link in the email (or copy and paste it to your browser's address bar) to confirm and verify your email. Then you will come to a "Thank you! Acronis True Image 8.0 Personal registration complete" web page. Buy Ativan online http://kendallpharmacy.com/ativan.html
DO NOT CLOSE this page before noting down the password for Acronis account. The serial number for Acronis True Image 8.0 Personal will be sent to your Inbox, but the password for Acronic online account won't (unless you request for password retrieval later). Registration will automatically create an Acronis online account for you, which will automatically associated with the Acronis True Image 8.0 Personal (English) as registered product.

An email titled "Acronis True Image 8.0 Personal serial number" should be sent to your mailbox with the free serial number. Alternatively, login to Acronis My Account, and then go to Registered Product to view the registration data and serial number (SN), upgrade offers (i.e. upgrade to Acronis True Image 11 Home for £23,95 or $29.95, probably for full 32-bit and 64-bit Windows Vista support, but XP should be work flawlessly with version 8) and access to installation file download for Acronis True Image 8.0 Personal Editon.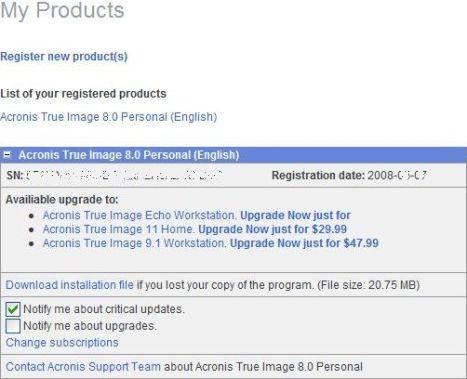 Note that to download the Acronis True Image 8 from Acronis My Account, you probably have to use Firefox browser instead of IE, which returns blank page only. Alternatively, download via the third party hosting link to trueimage8.0_p_en.exe. The serial number will have to enter during setup installation to activate Acronis True Image 8.