Do you like to learn how to speak pure Chinese? Now, you can learn it via an online Chinese reader. The reader can read a single word or a few sentences from any Chinese text. Users can also select either a male or female voice to be the Chinese pronunciation online-teacher.



"Learn Chinese, Listen to This!" is a free website developed by Anhui USTC iFLYTEK Co., Ltd. The website can convert any written Chinese text into fluent speech in the authentic Chinese language. All you need to do is to key in any Chinese text into the box, select the narrator and click the 'Play' button. After that, the text will be read sentence by sentence with the pronunciation symbol or 'pinyin' of each Chinese character indicated. If you want to hear a particular sentence only, click any word in the sentence and the system will read it. Likewise for a word; just double click on the word and the system will read the particular word only. Users can also choose to read the Chinese in full text, character by character or word by word just by clicking on the relevant tabs on the website. In addition, you also can save the pronunciation in MP3 format.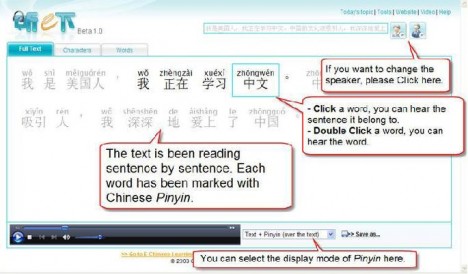 There are more features in the 'Advanced Mode Reading Setting', such as:
Control the reading speed;
Select the narrator for a particular word/sentence;
Set Chinese pinyin (tones);
Mute a selected character/word/sentence and etc.