Wanted to have weather forecast information at your finger tip with direct display on your Android devices' mainscreen? 1Weather keeps office workers alerted to the weather and temperature outside their work cubicle so that they do not lose touch with nature. 1Weather is a real time weather report and weather forecast application that can be run as an application or set as a screensaver.
1Weather developed by OneLouder Apps is great for those that would like to have a quick summary of all the weather information without browsing to any weather forecast websites which could be time wasting. 1Weather comes with eight graphically screens including Today, 7-Day Forecast, Severe Weather, Precipitation, Radar, Tweets, and Top Weather Pics. But rather than merely displaying words, numbers and symbols, 1Weather provides a glimpse of the rising/setting sun, blue skies, stormy clouds, lightning, etc through animation on a backdrop. With 1Weather, users can easily access real-time weather information and forecasts for virtually any location in the world.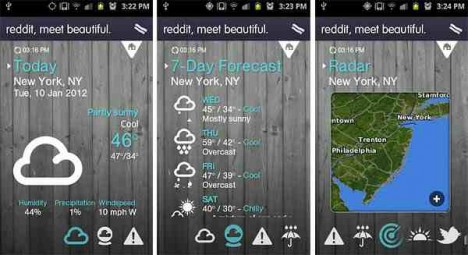 1Weather is available as a free for ad-supported app or paid version $1.99 without ads.
Download free version 1Weather for Android from Google Play: https://play.google.com/store/apps/details?id=com.handmark.expressweather
1Weather support Android phones running 2.1 or higher.