1AVCapture is the ultimate audio video capture solution for Windows from PCWinSoft. As its name implied, it comes with simple, easy-to-use function that can capture and record any action in PC and quickly compress, store, and convert into popular file formats. With 1AVCapture, users able to capture images, record video, and record audio from any source such as streaming audio, CDs, audio from DVDs, games, and voice. In addition, 1AVCapture also integrates a live real-time video streaming function that facilitates users in broadcasting. Furthermore, 1AVCapture presents customizable program configurations, record wizard, event logs, preview screen, hide and lock, backup, restore, and other supporting functions.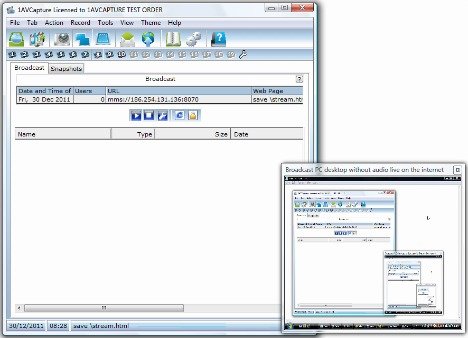 Features of 1AVCapture:
Capture streaming video directly from your web browser.
Capture and record video streaming from a webcam.
Capture and record from external devices: VCR, DV Camcorder, an external DVD player, tape deck or record player.
Work with broadcast streams, Internet media files, TV tuners, webcams, VCRs, microphones, CDs, line-in and aux input, YouTube videos, Windows Media Player, and any music or movie that appears in a browser window.
Record CD quality audio files from any source.
Designed to work with the highest quality audio and video files.
Automate when to start and stop recording.
Enable/Disable time-stamp and file compression options.
Hide the user interface and lock it with a password.
Supports the full range of CODECs.
Supports various audio formats such as JPG, AVI, WMV, WAV, MP3, and WMA.
Supports external device.
1AVCapture usually costs $60.00 for purchase. As part of PCWinSoft promotional offer, interested users are now entitled to grab the full version of the 1AVCapture for free of charge. To grab a free copy of 1AVCapture legally, just follow the steps below:
Go to the following URL: http://www.pcwinsoft.com/promotion/SoftwareZone/registration.asp

Fill in the required full name and email, and then click the "Next" button.
An email with registration key for 1AVCapture will be sent to the registered email address.
Download 1AVCapture setup installer: 1AVCapInst.exe
Once downloaded, run the setup installer and complete the installation process by following the instructions on the screen.
1AVCapture is compatible with Windows 2000, 2003, XP, Media Center, Vista, Windows 7, and Windows 8.