Browsing articles tagged with "TrustPort Internet Security Archives - Tip and Trick"
As new threats emerge, Antivirus or anti-virus software, sometimes known as anti-malware solutions, is computer software used to protection against viruses, Trojans, bots, rootkits, exploit kits, spam, phishing attacks, browser hijackers, ransomware, keyloggers, backdoors, rootkits, trojan horses, worms, malicious LSPs, dialers, fraudtools, adware and spyware.
If you're using a Windows 10 PC or laptop, it's includes basic antivirus software called Windows Defender, but if you want more advanced protection for your PC or laptop, you can install either Norton, Bitdefender, Kaspersky, or other antivirus security suite. Antivirus software is available in free or paid options that costs around $20 to $40 to offer excellent protection.
The good news is there are some great antivirus security suite that are completely free to download. In this article, we bring you free 17 best paid antivirus software for your PC or laptop.
Continue reading »

TrustPort Internet Security 2014 is an comprehensive security software that provides antivirus, antispyware and antimalware control for Home and office users. TrustPort Internet Security monitors all connectors between the PC and the internet such e-mail (advance mail protection and anti-spam), prevents downloading malware from web, and parental control. With TrustPort Internet Security, users can instantly identify almost all data files while downloaded on the web. In addition, portable antivirus comes as a special feature which offers portable security application that can install in flash drives for scanning any PC with flash interface.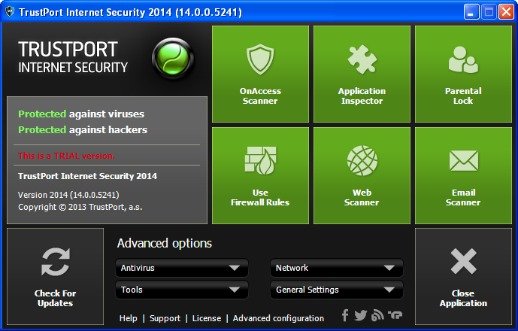 Continue reading »