Will you felt panic when your newborn baby is screaming at the top of her/his tiny lungs during midnight? What's making baby cry? Is it hungry? Diaper getting wet or feeling pain? You have no idea. Good news for all exhausted new parents. An excited app – Baby Cries Translator has been created by Taiwanese researchers from National Taiwan University Hospital Yunlin which can differentiate variety of crying sounds made by babies and comparing them to a large database.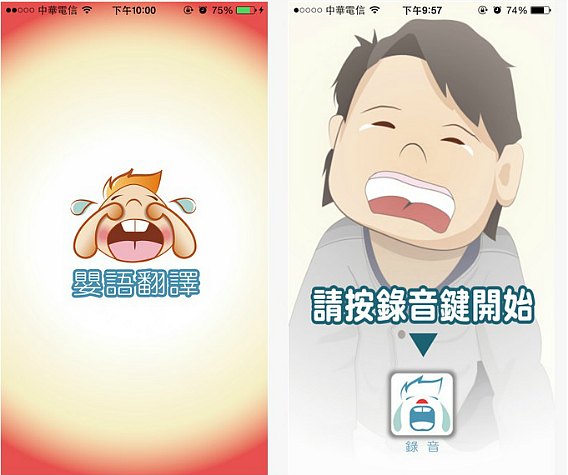 To develop the app, the researchers use more than two years to collect around 200,000 example of crying sounds from approximately 100 newborn babies to create the database. The Baby Cries Translator can differentiate four different types of sounds of baby crying such as hunger, sleepy, pain, and diaper getting wet.
When the baby cries, you just needs push the recording button for 10 seconds, and the sounds will be uploaded to the Cloud Drive. The app will takes just 15 seconds to analyses the sound the crying baby after the differentiating process and sends the results to the your mobile phone.
All the sound database will constantly updated in the Cloud Drive and a machine learning algorithm means that parents can personalize the app for their own baby. Once downloading the app, you need to set the birth of date and nationality for your newborn baby. Press the app's record button when baby cries and capture for 10 seconds. The recording sound will uploaded to the Cloud Drive and having analysis to differentiate the crying sound and send the result to your personal mobile phone. With Baby Cries Translator app, now you can easy know why baby was getting upset.
According to the feedback from app users, the app boasts an accuracy rate of 92 percent for babies under two weeks old. While, it can reach up to 84 or 85 percent accuracy for the babies under two months. However, the accuracy of analysis will falls off when the baby gets older and become less useful. Baby will become more comfortable in their environment after six months age.
Parents, you can depend on the actual situation to determine whether this app is accurate or not. Baby Cries Translator app is available for download with only costs $2.74 for Android devices in the Google Play store and $2.99 for iOS devices in the iTunes App Store. Have a good try.
Details summary of Baby Cries Translator app:
Collected over 200,000 crying sounds from 100 newborn babies
Accuracy tell user if baby is hungry, tired, in pain or has wet diaper
Analysis in just 15 seconds and feedback to user the result of baby cries sound
92% accurate in infants under 2 weeks and 85% under 2 months
You can share or follow us on Twitter, add us to your circle on Google+ or like our Facebook page to keep yourself updated on all the latest info from Microsoft, Google, Apple and the Web.