Heart beat is a complete cardiac cycle, including spread of the electrical impulse and the consequent mechanical contraction. Heart beat apps take advantage of your smartphone's camera and can monitoring your heart beat per minute. Most of them perform multiple functions such as physical fitness, heart fitness, calorie count, maintenance of your physical performance charts and more.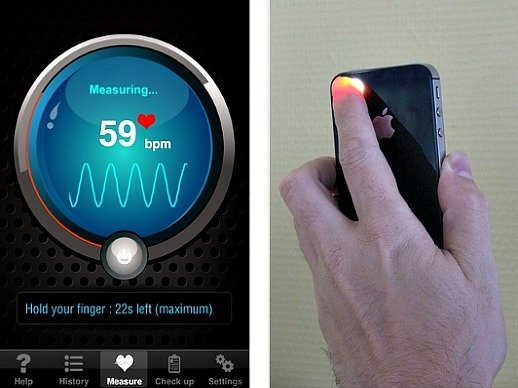 Heart Beat Rate was one of the popular and highly rated iOS apps for monitoring your heart rate. Primary function of this app is to measure your heart rate by using the built-in camera. It allows you to tracks your stats in real time by provides direct and reliable measurement of your heart rate. With the built-in flash illuminated, the app counts your heart beats and automatically detecting your pulse.
Features of Heart Beat Rate:
Real-time heart rate calculation & display
Real-time pulse signal display in scrolling graphe
Smart measure mode (measure stops after 15s if a valid pulse value is found)
Resting heart rate checked against standards at the end of each measure
Heart Rate training zones during physical activity
Personnal advice to help you lower your resting heart rate for a better health
Save measure with optional comment
History view with a list and graph display
Settings page
Before you get started, you will need to enter your age and gender so the app can calculate your heart rate zones. Holding your finger over the whole camera lens on your smartphone, and it will detect your pulse within few seconds. Heart Beat Rate will compute your heart rate in real-time while displaying the pulse signal in a graph.
Note: The data provided by apps is accurate but if you suffer any medical or health problem especially related to heart then you must not rely on these apps.
Heart Beat Rate is free to download from the Apple's App Store, but the Pro version comes for $1.99. However, with the current promotional offer, interest users can grab the Heart Beat Rate Pro version from Apple's App Store with no cost.
Note: Limited time offer, so hurry up!
Heart Beat Rate Free version for iOS: https://itunes.apple.com/nz/app/heart-beat-rate-heart-rate/id548606704?mt=8
Heart Beat Rate Pro version for iOS: https://itunes.apple.com/nz/app/id575175252?mt=8&ign-mpt=uo%3D4
Heart Beat Rate requires iOS 4.3 or later and compatible with iPhone 4, iPhone 4S, iPhone 5, iPhone 5c, iPhone 5s, and iPod touch (5th generation).