Feeding a hungry baby alone is not an easy job. You need to placate your crying baby while getting their milk to the right temperature within a short time. It is really a stressful experience especially for new parents. Now, there is an innovative self-heating baby bottle named Yoomi that will heat up milk to the temperature of breast milk with just a press of a button.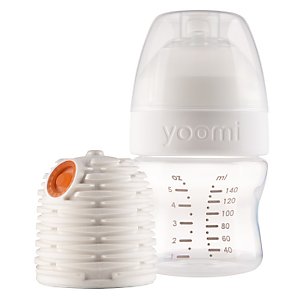 Yoomi is a baby bottle and warmer-in-one which was invented by Jim and Farah Shaikh, an engineer and a solicitor. They came up with the idea after being tired of frequently having to heat milk to an exact temperature for their eldest son while outdoors. The Yoomi bottle won the Design and Engineering Sector Award in the first London Technology Fund Competition in 2008.
The Yoomi bottle contains a sealed warmer unit just right beneath the teat. Once the orange button is pressed, the sealed warmer will gently heat itself up. It is ready to use after 60 seconds. Tip the bottle toward your baby's mouth, the cold feed flows through the specially designed channels outside the warmer. By the time the feed reaches the teat, it will be on the right temperature as breast milk temperature (32-34°C). It has been well designed so that the warmer would not overheat baby's feed and the warmer will maintain the same temperature for up to an hour. After the warmer discharged, it can be recharged and sterilized for the next use.
Besides, the Yoomi bottle is ergonomically shaped for greater comfort and comes with anti-colic teat. This innovative bottle is very useful when you are outside the home or traveling. The Yoomi bottle is available in the UK for £22 and a pack of two teats for £4.50 from John Lewis.